These sketchbooks belong to Converse University students. During a two-week travel study course titled "Sketching and Watercolor in France", students were required to carry a sketchbook and maintain a visual journal of the things that interested them. Before we left, we examined the travel sketches of artists like John Singer Sargent and Eugene Delacroix, who traveled around the world sketching and painting. We looked closely at how they arranged their sketchbooks, the things that inspired them, and how these were then translated into larger works when they returned home.
Upon our return home, students were required to use these sketches as a starting point to create longer more finished works. The sketchbooks are full of quick drawings and paintings, that serve as memories of a particular moment in time. What we have discovered is that travel sketching is a wonderful way to experience a place. Unlike taking snapshots, you are much less caught up in the act of recording and instead able to fully immerse yourself in the culture. We can see from their sketches that they offer a unique and specific perspective.
We began our Journey in Paris where we Visited the Museum of Eugene Delacroix, there is where we paid homage to one of the greatest "travel sketchers", Eugene Delacroix. We also visited Louvre and Musee d'Orsay. After a few days of visiting the sites and sketching in Paris we traveled through the Burgundy region on our way to Lyon where we toured the city's winding streets and experienced its rich history and reputation for gastronomy. From there we explored sketching in a more pastoral setting, visiting the lovely villages and pristine alpine landscape of the French Alps. Later we made our way south to St. Remy de Provence, where we walked in the footsteps of artist Vincent Van Gogh and drew on location, where he was known to have made some of his best work during the last years of his life. In addition to exploring sites connected to Van Gogh, we also visited other special places nearby-including the beautiful hilltop village of Les Baux-de-Provence and its castle. On our way back to Paris we stopped in the ancient walled town of La Couvertoirad, and sampled "the cheese of popes!" in Roquefort-sur-Soulzon area, were we visited the Roquefort Cheese Caves. We ended the trip with a dramatic view of the Millau Viaduct-which has claim to fame as the tallest bridge in the world.
The cypresses on the Vincent Van Gogh trail and the cultural significance of the Cicadas in Provence both stood out to me. The Van Gogh trail was in Saint Remy and was filled with cypress trees that Vincent was inspired by. The cicadas can be seen everywhere in Provence as they are a symbol of good luck!  -Piper Grant
This is a watercolor painting I did of the Pont-du-Gard in southern France. This was one of the first watercolor paintings I did during the trip that I really took my time working on. The weather that day was amazing and I was able to sit by the still river and paint without any pressure. Before painting, I took a moment just to look and appreciate the architecture and to think about how much time and effort must've gone into building such a dynamic structure. The drawings on the second page are quick sketches I drew in a cathedral in Lyon. If I could one day visit the Pont-du-Gard again, I would love to paint it from a different angle and maybe experiment with different colors. I will never ever forget my time in France or any of the marvelous structures and architecture we were able to witness and appreciate!  -Kailee Huggins
"Van Gogh's Field"
These sketches were drawn in the same field that appeared in the famous works done by Van Gogh. The location charged me with a mix of emotions. I tried to capture those emotions in the range of greens that I used in my sketches.  -Anna King
As an artist, I am so honored to have had the opportunity to visit Saint Remy! Vincent Van Gogh was very inspired by this area and many of his famous paintings are based there. I was also able to be inspired by this beautiful town through its landscapes, architecture, and people!  -Sydney Sanford
We visited one of the tallest bridges in the world, the Viaduc Millau. The view was so beautiful at sunset that the mountains in the background were turning different shades of blues and purples.  -Emily Seconi
---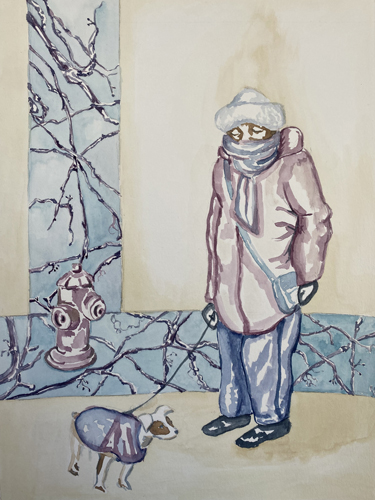 by Piper Grant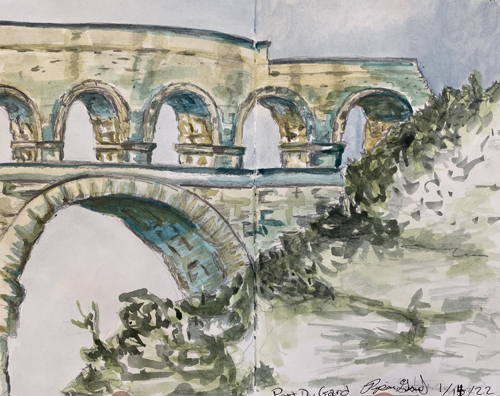 by Piper Grant